12 Best Afternoon Snacks in Ho Chi Minh City You Must Try
Ho Chi Minh City is renowned as the heaven of delicious food for over years. In the blog of Saigon Food: 12 Must-Eat Dishes and Where to Find Them, I recommend you guys 12 main courses in Saigon (an old name of Ho Chi Minh City). This time, it turns to be an authentic 'Saigonese' with 12 popular afternoon snacks in Ho Chi Minh City.
To begin with, having a snack in the afternoon, in Vietnamese, is called as "ăn nhẹ" or "ăn xế", which means spending a bit of money (ranging around VND 30,000) to have a tasty and fast food during break time. Actually, "ăn xế" in Vietnam is something that becomes a point of our culture. The time to take the afternoon snack varies but ranges from 3 pm to over 6 pm. And the reason why people choose this section of time is easy, it's in break time, and it's perfect to fill up a stomach with something gentle but scrumptious.
In my country, there are countless choices that you can take to have a tasty "ăn xế" with affordable prices ranging from VND 1,000 to VND 50,000. Another plus point for an afternoon snack is that you can find these dishes in any corner of the city. Yet, having a snack is easy but to know a good place for a particular snack is another story. Therefore, let's follow me and I'll disclose where to make your snack time enjoyable!
1. Bánh Tráng Trộn/Bánh Tráng Cuốn – Mixed Vietnamese Paper Rice
This dish was originally from Tay Ninh province and soon became a star in Saigon street food's billboard. Over years, Bánh tráng trộn has been reinvented to be more attractive with different toppings such as dried beef meat, dried baby shrimp, quail eggs, shred raw mango, etc. Importantly, the secret sauce makes this snack become fascinating to people. It is a combination of fried shallot & garlic oil, mayonnaise, cashew oil, and shrimp salt. Every ingredient is mixed well together and turns this snack into a can-not-miss dish in Ho Chi Minh City.
Where to eat Bánh Tráng:
– 38 Nguyen Thuong Hien, ward 5, district 3.
– The area of Turtle Lake, Cong Truong Quoc Te street, district 1.
Price range: 10,000 – 20,000 VND.
2. Súp Cua – Vietnamese Crab Soup
Unlike soup in western countries, Vietnamese soup doesn't have dairy products such as butter, milk, or cream, which enriches the richness of the dish. Soup in Vietnam has a lot of ingredients from vegetables to meat. Among those, Súp Cua or crab soup is a scrumptious food for anyone to have a fill-up in the afternoon. Giving a try a Súp Cua bowl, you're gonna find interests since the soup not only has crab meat and broth but also strings of beaten eggs, corn, shredded chicken, pigskin, mushroom, pig brain, and even century egg, etc. I can guarantee that Súp Cua will satisfy your stomach!
Where to eat Súp Cua:
– Súp Cua Hạnh – 517 Su Van Hanh, district 1.
– Around the Notre Dame Cathedral of Saigon to Nguyen Du street, district 1.
– Súp Cua Thuỳ – 69 Nguyen Thong street, ward 9, district 3.
Price range: 15,000 – 40,000 VND.
3. Sủi Cảo, Hoành Thánh – Dumpling Soup
As you've known, Vietnamese cuisine is partly formed from Chinese cuisine. This results in a variety of Chinese dishes, even snacks listed in the menu for afternoon meals. Furthermore, having Chinese dishes as afternoon snacks in Ho Chi Minh City now is easier than ever with a lot of street vendors in any district. Among those, there are Sủi cảo, Hoành thánh which can be generally known as dumpling soup.
Yes, the dishes are not only yummy but also nutritious. Indeed, the ingredients to make dumplings are varied with shrimp, pork, quail eggs, vegetables in many sizes and shapes. Evenly, the broth is sophisticated to make. As a result, having yourself a bowl of hot dumpling soup on a rainy day will definitely be an interesting experience you've ever had.
Where to eat Dumpling Soup:
– The area of Ha Ton Quyen street, district 5.
– Tân Tòng Lợi – 311 Vo Van Tan street, ward 5, district 3.
Price range: 25,000 – 40,000 VND.
4. Mì Xào Bò – Fried Noodles with Beef and Vegetable
Anytime when talking about this dish, it reminds me of when I was just a teenager. I spent most of my break time of 3 years in school eating fried noodles. Actually, this dish is easy to eat and affordable for anyone. And it's even better especially on rainy days.
As the name of the dish, noodles are fried with beef, or seafood in some places, and vegetables. The noodle is chewy, smoky, combined with savouriness of beef and veggie. It is particularly perfect for an afternoon snack when you want to eat something that is both healthy and tasty.
Where to eat Mì Xào Bò: inside the area of Saigon Train Station, no. 1 Nguyen Thong street, ward 9, district 3.
Price range: 25,000 – 30,000 VND.
5. Phá Lấu – Stew Organs with Herbs
Another specialty is the menu of Saigon afternoon snacks you can not miss for a break-time! Phá lấu is made from pig/beef organs. It is cooked in hours to make the organs tender and juicy.
The exceptional thing to make a good Phá lấu is on the condiments used. There are totally 6 main condiments used to cook Phá lấu: star anise, cinnamon, cloves, Sichuan pepper, fennel seeds, and cashew oil to make phá lấu having a stunning red color.
A basic bowl of Phá lấu will have 3 kinds of toppings: lungs, stomachs, and tripes. It's usually eaten with a loaf of banh mi, or sometimes, consumers love to eat Phá lấu with instant noodles. And last but not least, the sweet and sour fish sauce goes along to have the best taste for this mouth-watering food.
Where to eat Phá Lấu:
– Phá Lấu Cô Thảo – 243/24G Ton Dan street, ward 15, district 4.
– Phá Lấu Lì – 1A Suong Nguyet Anh street, district 1.
Price range: 25,000 – 30,000 VND.
6. Bánh Ướt Ban Mê – Steamed Rice Rolls
Steamed stuff rolls are a well-known breakfast for any Vietnamese. However, have you ever known that this dish can be eaten in the afternoon or dinner with another version? Yes, it's called Bánh Ướt Dĩa, or Bánh Ướt Ban Mê, a specialty of Ban Me Thuot city.
Like the original Bánh ướt, the chef puts a slide of rice roll on a small plate and serves it with different toppings such as chả cốm, grilled meat, grilled chopped fish cake, grilled pork ham, pickles, shred raw mango, and herbs. Alongside, sauces to eat with bánh ướt also vary with 4 types of choices: sour-sweet fish sauce, mắm nêm, condensed fish sauce with diced meat, fish sauce with shallot.
The way to eat Bánh ướt is also interesting. To illustrate, you put the toppings inside and gently roll bánh ướt, then dip the roll into the sauce. Because there is only 1 slice of bánh ướt on a plate, it will take a stack of plates to fill your stomach.
Where to eat Bánh Ướt Ban Mê:
– Bánh Ướt Ban Mê, 86/25 Vu Huy Tan street, Phu Nhuan district.
– 24 – 26 Nam Quoc Cang street, district 1.
Price range: 2000 VND/plate of steamed rice roll. And 5000 VND/topping plate.
7. Gỏi Đu Đủ – Papaya Salad
A fresh supper for boiling days! If you are looking for a lip-smacking food that is fresh and healthy, Gỏi đu đủ is an ideal choice! This food is so popular that it can be found in any district of Ho Chi Minh city.
The main ingredient is, of course, shred raw papaya while toppings accompany are various. You can choose to eat papaya with khô bò (black dried beef), or shrimps and pork. Sauces used for eating gỏi đu đủ are also different. If you have papaya salad with khô bò, soybean sauce adding chili sauce will be a perfect match! On the other hand, if you have papaya salad with shrimps and pork, then the sweet and sour fish sauce is always a great choice!
Where to eat Papaya Salad:
– A small stall opposite Le Thi Rieng Park, Tan Dinh.
– Inside a small, old house in Nguyen Van Thu street, district 1.
Price range: 15,000 – 20,000 VND.
8. Bánh Mì Nướng Muối Ớt – Grilled Spicy Bread
Bánh mì nướng started its journey on a race of Ho Chi Minh City street food in recent years. And soon, it became a trend for the afternoon snack.
To make Bánh mì nướng, people grill a bread which is covered by butter and spicy sauce. After that, they cut the bread into pieces and gently put shallot, dried shrimp, shred Vietnamese ham, quill eggs, and mayonnaise on top. Overall, Bánh mì nướng is hot, crispy, and a little bit spicy.
It goes well with the richness of mayonnaise and savouriness of ham and shrimp. To conclude, it is an ideal snack for every day.
Where to eat Bánh Mì Nướng:
Price range: 15,000 – 20,000 VND
9. Bột Chiên, Bánh Hẹ – Fried Taro Cake
You may get to know that Vietnam is home to dishes made from flour. Countless things can be made from flour like Bánh xèo, Bánh căn, Bánh bèo, Bánh bột lọc, Bánh dừa, etc. Furthermore, you might also hear about Bột chiên, or fried taro cake, a pretty much-highlighted dish in the menu of Ho Chi Minh City afternoon snacks.
Originally, this food belonged to the Chinese people who migrated to Vietnam in the past. Over time, Bột chiên has become a part of Saigon street food life with a slight change in how it's served and eaten.
To have a plate of crispy Bột chiên, the chef needs to fry raw taro flour which was cut into cues on a high fire. When Bột chiên cues turn yellow and become harder, the cook puts beaten eggs and a bunch of green onions above. The process of cooking ends in just about 2 – 3 mins. Then, you will be served a plate of Bột chiên with some papaya salad and roasted peanuts. Certainly, the result is worth it.
This food is absolutely a must-try when traveling to Ho Chi Minh City. Besides, Bánh hẹ is a similar dish to Bột chiên but people add chives to boost more flavors.
Where to eat Bột Chiên:
– Bột Chiên Phùng Khắc Khoan – 63 Phung Khac Khoan street, district 1.
– Bột Chiên Đạt Thành – 277 Vo Van Tan street, ward 5, district 3.
Price range: 15,000 – 25,000 VND.
10. Bò Bía – Vietnamese Popiah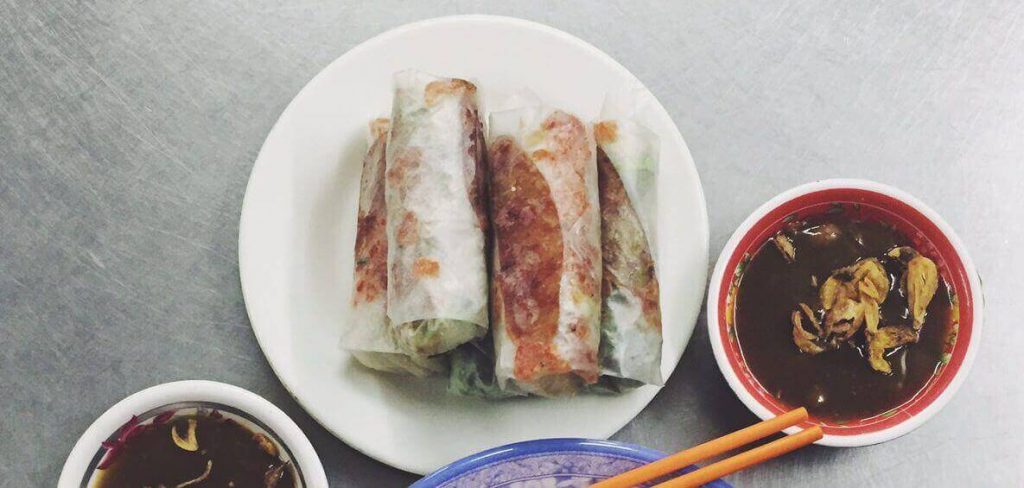 A similar and mini version of Fresh Spring Rolls, Bò Bía is a go-to snack that students always eat after break time. To make Bò Bía, people put on a piece of paper rice, and add some boiled yam bean, carrots, Chinese sausage, herbs, then roll everything up.
When eating Bò Bía, you dip it into black peanut sauce with some shallot and roasted peanuts. Honestly, I can eat around 10 rolls of Bò Bía each time because these rolls are really small and tasty that keep me eating and eating.
Where to eat Bò Bía:
– 210 Trần Bình Trọng street, district 5.
– 127 Nguyen Huu Cau street, district 1.
Price range: 1,000 – 3,000 VND per roll.
11. Bánh Xèo – Vietnamese Pancake
Another kind of dishes made from rice flour you shouldn't miss is Bánh xèo, or Vietnamese pancake in English. In fact, this is well-known as the specialty of Vietnamese cuisine. You can find many kinds of Bánh xèo with different toppings and sizes. For example, Bánh xèo of the southern people will have a big size with main ingredients including shrimps, boiled pork, and bean sprouts. Meanwhile, people living in the middle coastal area make Bánh xèo in smaller size with seafood and deep fry it to make the pancake crispy.
On top of that, the thing that makes me love this food is the way we eat it. To eat Bánh xèo correctly, you should roll it with lettuce and herbs together. After that, dipping the roll into sweet-sour fish sauce and enjoying. To me, eating Bánh xèo with friends is one of the most joyful things you can do in Vietnam since my mom says this food is made for groups of many people.
Where to eat Bánh Xèo:
– Bánh Xèo Ăn Là Ghiền – 74 Suong Nguyet Anh street, district 1.
– Muoi Xiem – 213 Nam Ky Khoi Nghia street, district 3.
– Bánh Xèo Dư – 274 Nguyen Van Dau street, Binh Thanh district.
Price range: 20,000 – 50,000 VND.
12. Chè – Sweet Soup
A sweet thing for one of your afternoon snacks in Ho Chi Minh City! Indeed, sweet soup can satisfy almost everyone. There are many kinds of sweet soup with different ingredients, colors, flavors, etc. If you are a fan of beans, red bean sweet soup, black bean sweet soup, green bean sweet soup are your choices. And if you like to try special combinations, Chè Khúc Bạch (Cheese sweet soup), Thai sweet soup, Hong Kong sweet soup, Chè Bốn Mùa (Hanoi yearly fruit sweet soup), etc. might blow your mind!
Where to eat Chè:
– Chè Mâm Khánh Vy – 242B Su Van Hanh street, district 10.
– Chè Campuchia – in the alley 51 Ho Thi Ky street.
– 16C Ky Dong street, district 3.
Price range: 15,000 – 25,000 VND.
Overall, there are still a bunch of mouth-watering dishes I couldn't introduce in this post because Vietnamese cuisine is like a universe, it is gigantic, spacious and always changes. So, keep calm and enjoy these freaking foods!
---
This article is now available online on GPSMyCity. You can free download it to read it offline and use it as your tour guide. Or upgrade with a small fee for a planned trip with all destinations showed as written in the article. I will have a small fee from your upgrade as support to my blog. Thank you in advance!
---
IF YOU LOVE THE HO CHI MINH CITY AFTERNOON SNACKS, 'PIN IT'!